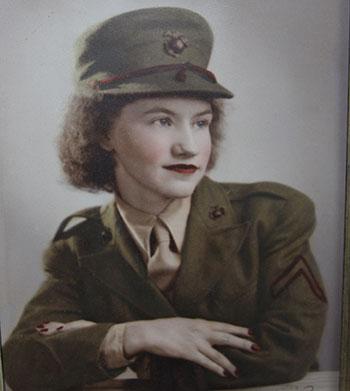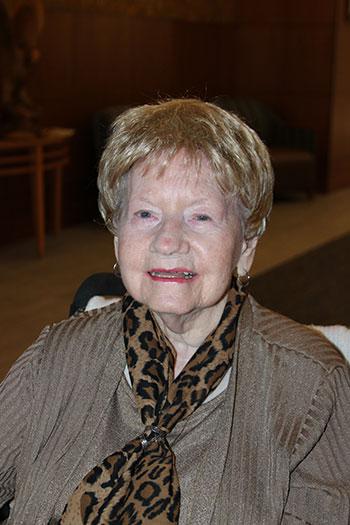 AFRH-W Resident Highlight – Neil Ferguson
By Christine Baldwin | Librarian        
Neil Ferguson was born in a rural community in California.  He biked three miles to a four-room grammar school, and his love of biking continues today!  The Korean War had started when he graduated from high school, so he decided to enlist in the Navy.  "You always have three meals a day and a bed to sleep in every night" is the reason given.  Neil performed clerical tasks aboard a heavy cruiser, which alternated 10 days in Japan taking on supplies and 30 days off the Korean coast firing 8" shells.  In fact, his ship the USS ST PAUL (CA73) is recorded as having fired the last official round before the cease-fire in July of 1953.
While in Japan, Neil met and married his wife.  Two of his four children are twins and they were born on July 4.  At first, they were tagged "Twin A" and Twin B," but someone put the names "Yankee" and "Doodle" on their basinets.  They are still nicknamed that today!         
Next the family was stationed at Norfolk, Virginia, where Neil changed his classification to electronics technician in communications.  He went to Great Lakes Naval Training Center for schooling.  Since Neil was the only one left in his class for communications he was designated the smartest student in this area.  After graduation, Neil became an instructor of basic electronics.  He also continued his education with advanced electronics, but since there was a backlog of students in this school, Neil was taken out of class to help with instructing. It just so happened that he was assigned to teach a class that involved calculus, Neil's hardest subject. However, as an instructor, he did learn some calculus himself!
After graduating from the school, Neil was sent to a ship off the coast of Vietnam that surveyed the depth of the ocean.  While waiting for transportation to his ship he was assigned to a barracks in Saigon where there was no hot water and the wrong kind of electricity for his electric razor.  He was miserable shaving with a blade razor in cold water, not to mention taking a shower in cold water.  When Neil finally reached his ship they had just finished distilling sea-water and the hot distilled water was put into the fresh water tank and now the cold water was hot along with the hot water.  Talk about extremes.  At this point in his career, Neil was an E-7 chief electronics technician.  He liked this position because he could "walk around with a coffee cup in his hand telling his people what to do."  He ate the same food as the rest of the crew, but ate in the chief's mess hall and could have as much as he wanted, along with the other chiefs.
After Neil's tour from surveying the coastal waters of Vietnam, he was transferred to Great Lakes Service Schools Command where he was in charge of the electronics school's examination department, where the exams for the classes were prepared and statistics compiled.  This duty was one of Neil's favorites.
Neil retired in 1972.  He then taught electronics at a community college for a while before going to work maintaining the industrial electronic equipment in a magazine printing plant in Lincoln, Nebraska.  After a few years Neil moved to York, Pennsylvania, where he worked for an engineer who designed industrial electronic controls. He became involved in designing electronic circuit boards utilizing microcomputer chips.  Neil became quite involved with microcomputers from the early IBM and Apple models, especially the Apple Macintosh, and is still involved with microcomputers to this day.
Neil came to AFRH-W in 2007.  He enjoys biking and helping others.  He helps with computer issues and is in the process of doing an audio recording of the recent book on the residents "Remembering with the Heart."