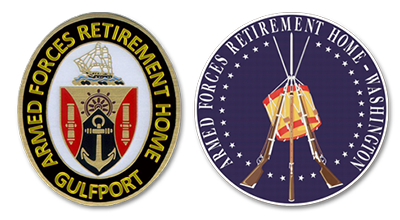 AFRH: the reward for all your sacrifices.
Back in 1811, our young nation made a "Promise" to care for its older and disabled veterans. This would be repayment for their sacrifices in defending liberty. At last, two homes were built: the US Naval Asylum in Philadelphia (1834) and the US Military Asylum in DC (1851). Since then both Homes have housed thousands of eligible, aging military veterans.
Both asylums were self-sufficient in the 1800s. All "inmates" were expected to work and contribute to the daily operation of farms that supplied all their needs. Uniforms were issued, reveille was called at 0500, and inmates marched to supper. Through the 1900s and after World War II, the two Homes evolved with the times with an emphasis on leisure and recreation. In 1991 both Homes joined forces and became the AFRH.
Today the AFRH is a modern, thriving retirement home with a focus on health and wellness. We offer premier services parallel to those offered in the private sector. Yet, one constant remains: all Residents have served in the US military and share a common bond of defending liberty at home and abroad. Each of the AFRH communities has a Hall of Honor to celebrate our military heritage and honor all who served.
Our staff is driven to nurture its Residents while giving them the respect they deserve. We continually enhance our great programs and services to deliver highly personal care. All so you can stay happy, healthy, and get the most out of retirement. After all this is your time to thrive.