The Naval Home was a safe haven for our seamen.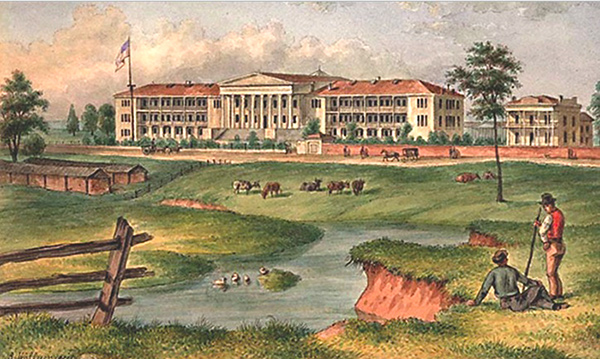 In 1811, the US Navy urged Congress to pass legislation to create a Home in Philadel­phia "for destitute Navy sailors and Marines."  An interim Naval Hospital opened in the former country mansion of the renowned Pemberton family in Philadelphia. This Hospital offered state-of-the-art care to our former seamen.
At last, the permanent Naval Asylum opened in 1834. Pictured above is the main building, Biddle Hall, which provided old sailors a safe haven. Inmates at the Naval Home were expected to work to earn their keep. So, many had light duty jobs in machine shops. With permission, many would ship off on leave for months at a time.
For 142 years, this facility served America's former sailors. In 1976 the Naval Home relocated to Gulfport, MS, on about 40 acres of prime waterfront land sitting on the Mississippi Sound. This stretch of land is the former site of the Gulf Coast Military Academy for boys. The resort towns of Gulfport and Biloxi are nearby and feature casinos, hotels, and scenic shorelines.
In 2005, Hurricane Katrina destroyed the AFRH-G building, and the residents were transferred to the Washington community. Plans for a new building were soon approved with the support of the U.S. Congress. By October 2010 a modern new complex opened to hundreds of joyous residents. Local officials and school children from Gulfport were on hand to welcome our residents home.
The new AFRH-G is a multi-tower complex with five levels of care and full amenities under one roof. It was built to mitigate the effects of a Category 5 hurricane. Plus, it features the latest in green technology and supports the philosophy of Aging in Place. Today AFRH-G residents are still putting their stamp on this home with military memorabilia and beautification projects.