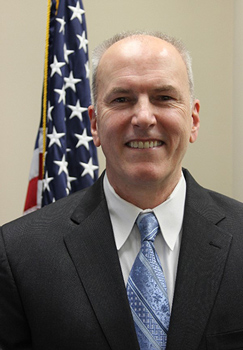 John S. RisCassi
Colonel (Ret.) USA |  Chief Operating Officer | Armed Forces Retirement Home - Washington, DC
---
Colonel (Ret.) John S. RisCassi, U.S. Army, is the chief operating officer of the Armed Forces Retirement Home.  He was appointed as COO on December 20, 2021.  Mr. RisCassi, a member of the Senior Executive Service, began his appointment as deputy chief operating officer in April 2018.  
The chief operating officer serves as the Armed Forces Retirement Home's second most senior position, reporting to the chief executive officer and serving as the chief of staff to the many experienced AFRH staff and employees. Additionally, Mr. RisCassi serves as the compliance officer, responsible for all facets of Agency compliance by ensuring that regulatory and external requirements are met.
Prior to his appointment at AFRH, Mr. RisCassi was an independent consultant and served as the director of government relations for General Dynamics.  In that position he was responsible for military program initiatives and business development-related enterprises, including portfolio development, strategic planning, messaging, and budget analysis for the government relations team at General Dynamics corporate headquarters. Additionally he was the primary planner and program manager for Army initiatives, and served as the corporate adviser on the procurement and budget process, business opportunities and military acquisition strategy.
Mr. RisCassi is a 26-year infantry combat veteran.  He received his commission through the U.S. Army Officer Candidate School at Fort Benning, Georgia, and holds a bachelor's degree in political science from Columbus State University, a master's degree in business administration and management from Webster University, and a master's degree in national security strategy from the National War College.