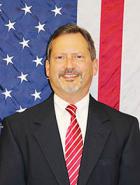 JEFFREY A. EADS
Administrator | Armed Forces Retirement Home-Gulfport
---
Mr. Jeffrey A. Eads is the administrator for Armed Forces Retirement Home in Gulfport, Mississippi (AFRH-G).
He was appointed to this position on December 28, 2015, and serves under the direction of the chief operating officer (COO), who is the AFRH agency's senior management official.
Mr. Eads is responsible for assisting the AFRH COO in executing the agency's mission, policies and programs, and assures compliance with federal statutes, regulations and applicable decisions and directions.
In his role, he provides oversight and ensures coordination of AFRH-G departmental activities and supervises the facility's service chiefs.  Departmental activities include the Corporate Business Resource Office, Health Care Services, Resident Services, Campus Operations and Support Services.
Before joining the AFRH-G leadership team, Mr. Eads served as a licensed nursing home administrator (LNHA) in a senior living facility in South Carolina. He is also an experienced administrator in all levels of long-term care and senior housing, and has held positions as nursing home administrator and director of retirement communities since 1997.  He is also a LHNA in Mississippi. His extensive experience in senior living and his goals of helping to enhance and strengthen the mission here at AFRH-G is no doubt a plus in moving into the future together. 
Mr. Eads holds a Bachelor of Science degree in Accounting from Belhaven College in Jackson, Mississippi and a Masters degree in Health Services Administration from Mississippi College in Clinton, Mississippi.
Mr. Eads  is a graduate of Spring Valley High School in Columbia, South Carolina. His hobbies include golfing, reading, and spending time with his family.  He currently resides in Gulfport with his wife, Cindi, and they have three daughters and one son, who are all in college majoring in healthcare fields.