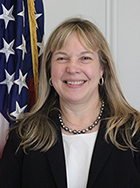 SUSAN E. BRYHAN
Administrator | Armed Forces Retirement Home | Washington, DC
---
Susan E. Bryhan, Captain, U.S. Navy, (Ret), is the administrator for the Armed Forces Retirement Home in Washington, D.C. (AFRH-W).
She was appointed to the position on June 10, 2018, and serves under the direction of the chief operating officer (COO), who is the AFRH agency's senior management official.
Ms. Bryhan is responsible for assisting the AFRH COO in executing the agency's mission, policies and programs, and assures compliance with federal statutes, regulations and applicable decisions and directions.
In her role, she provides oversight and ensures coordination of AFRH-W departmental activities and supervises the facility's service chiefs. Departmental activities include the Corporate Business Resource Office, Health Care Services, Resident Services, Campus Operations and Support Services.
Ms. Bryhan previously served as AFRH-W's wellness center manager, where she provided professional supervision and technical leadership in all facets of resident ambulatory care. These included onsite healthcare screenings and interventions for up to 450 residents of the Home.
She joined AFRH-W following a thirty-year career in the U.S. Navy. In her most final Navy assignment, Ms. Bryhan served as executive officer and instructor at the Naval Leadership and Ethics Center in Newport, R.I.
Other assignments included serving as commanding officer of Naval Hospital Oak Harbor, multiple leadership positions at Naval Hospital Great Lakes, officer in charge at David R. Ray Health Center, and director of administration aboard USNS COMFORT (T-AH 20).
A native of Red Lion, Pa., Ms. Bryhan received her Bachelor of Science degree in Finance from the Pennsylvania State University, as well as Master of Business Administration and Master in Educational Administration degrees from Old Dominion University.