Doris J. Hopper
By Lori Kerns, AFRH-G Librarian
Doris J. Hopper was born on November 29, 1946 in a very rural section of west Tennessee. She was one of four children, the second child and only girl, born to her father who was a farmer/retired highway construction worker and her mother who was a housewife/retired factory worker. Her three brothers eventually grew up and joined the military. Her eldest brother became a Seabee; her second brother joined the Army; and her youngest became a sailor. She has many fond memories of growing up in the country. She said that she didn't have much money as a child but felt like her family did. She, along with her schoolmates, worked in the fields during the summer and fall picking and chopping cotton. She would use her money to buy nice clothes for each new school year. She and her friends considered it a pleasure to pick and chop cotton. They would even have class reunions to recall the fun times they had.
Upon graduation, she and her best friend wanted to join the Navy. Her parents disapproved of the idea so she and her friend decided to become airline stewardesses. However, that did not work out for Doris so her parents sent her to cosmetology school to become a hairdresser. During that time, she was briefly married and gave birth to her daughter, Monica. After working as a hairdresser for about nine years, she decided she would try again to join the Navy. Because her brother was still in the Navy at the time, she knew that she was still young enough to join. Her daughter went to stay with her mother so she could attend boot camp and "A" school to become a storekeeper.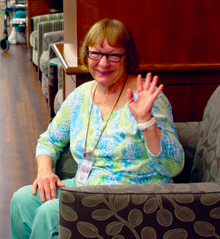 Once Doris finished "A" school, she was issued orders to Fleet Combat Directional Training Center. From there she went to KMCAS (Kaneohe Marine Corps Air Station) in Hawaii and then to Naval Air Maintenance Training Group (NAMTRAGRU) in Millington, TN. She was then issued orders for her first sea duty on board the submarine tender USS Frank Cable (AS 40) making her one of the first women allowed aboard a supply or support ship. Her next orders sent her back to shore duty at SUPSHIPS Newport News, VA. She was sent again to sea duty on the USS Emory S. Land (AS 39). Her final orders were for NAS (Naval Support Activity) back in Millington where she retired in 1995 as Chief Petty Officer with 20 years of service. According to her, the best time she had in her Navy career was the six years of sea duty. She said she had a great experience in the military.
Upon her retirement, she began working as an aide in a nursing home. She also worked as a custom molder at an injection molding factory for car parts and as a Dollar General cashier. At age 62, she decided to take things easy and retire from civilian work. However, she found this very difficult to do since she had to work most of her adult life. So she started caregiving for the parents of her family's friends. This is when she decided to apply for AFRH-G.
Doris is one of AFRH-G's most active residents. She is usually found participating in tournaments, plays, and classes, or volunteering. In her spare time (what little there is) she is learning to play golf and keeping up with her daughter, Monica, and three grandchildren, Mandy (27), Montana (25), and Meagan (19). Her family is so happy for her about her new home. She describes the residents and staff as "so nice and helpful" and says that she is "honored to be among the residents here." It is an honor to have Doris here at AFRH-G. Her genuine smile and sweet demeanor make her a pleasure to be around. It's so great to see her enjoying her retirement and setting a great example for others.