John Joseph Sylvia
By Lori Kerns, AFRH-G Librarian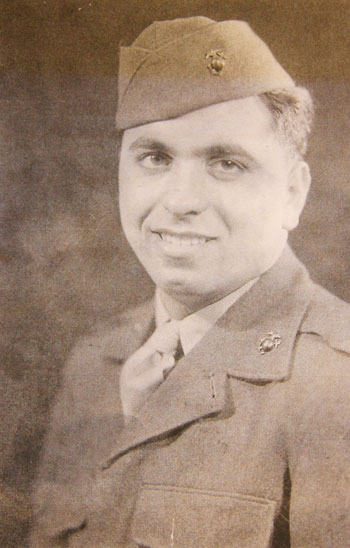 John J. Sylvia, Jr. was born on April 18, 1929 in Newport, RI.  He grew up, the eldest of three sisters, on Conanicut, a small island located just across the bay from the Naval War College in Newport.  His parents owned and ran a local business with the help of John and his sisters.  
In 1948, John decided to join the military.  Originally he wanted to join the Air Force but decided to follow his cousins who were in the Marine Corps.  He was assigned to the 155th Howitzer Battalion.  He remained stationed in the United States until he left the Marine Corps in 1950 upon the death of his father.  When he returned to Rhode Island, he took over his family's business and, along with two of his sisters, worked hard to stabilize it.
In 1952, John was drafted to the Army during the Korean War.  While at boot camp, he tested for and obtained his military driver's license.  His first deployment was to Japan to learn how to work on forklifts.  After staying only a few weeks, he was sent to Pusan, Korea.  Next, he reported to the Eighth Army Headquarters in Seoul, Korea to begin delivering ammunition to the front lines.  He served until 1954 and came back home to continue working for his family's business and also serve on the Jamestown Volunteer Fire Department, where he earned the rank of Captain.
During a visit to the USO, he noticed a young woman named Barbara.  After they began speaking, he realized he had already known both of her parents.  They dated for a while and then married in 1955. The couple had four children, John III, Steven, Paul, and Susan.  Tragically, Steven was diagnosed with leukemia and passed away at the age of four.
After the family's loss of Steven, John decided to leave the family business and go to Sherman College to become a chiropractor.  After graduation, he moved his family to Mississippi and opened a practice in Gulfport where he stayed until his retirement in 1994.
John and Barbara stayed married for 58 years.  Sadly, she was diagnosed with cancer and lost her battle in 2012.  John is the proud grandfather of six grandchildren and four great grandchildren.
Although he is retired, John still uses his chiropractic education to promote a healthy lifestyle for himself, in addition to explaining the benefit of chiropractic to others.  He is also an advocate for women's safety, an issue very important to him.  He does not have many hobbies, other than exercising each morning, but he does enjoy watching Wheel of Fortune.  A couple of years ago, he found out that he was eligible to live at AFRH-G when he came to the home to assist his son on a business trip.  When asked if he enjoyed living at AFRH-G, he laughingly replied that he feels like he has died and gone to heaven because he was never a good cook!