Holsey Gillis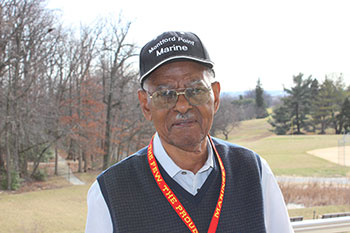 Holsey Gillis was born in Georgia and was one of six brothers and two sisters in the family.  His father had a farm and Holsey learned to work at an early age. Between climbing pecan trees to knock down the nuts to milking cows, Holsey kept busy. After graduating from high school, he was drafted into the U.S. Marine Corps. At that time, there was a quota of accepting seven African Americans a day at Ft. Benning, GA. Holsey went with two other friends and was the final cut for that day. He did his Basic Training at Montfort Point, NC, which was very tough. For example, if one person made a misstep in marching, the group would stop in formation until the person ran to the river, crossed it and returned.  All of this in the hot North Carolina sun.  However, one accomplishment at the base was having these Marines set records for target shooting with their 150 mm guns.
 After Basic Training, Holsey was sent overseas aboard a Landing Ship Tank (LST) through the Panama Canal with the 10th Depot Company.  He still remembers the engineering feat of going through the locks to get from the Atlantic to the Pacific Ocean. After almost two month of riding the rough waves, Holsey made it to Guadalcanal, which was secured by this time and then he was sent to New Caledonia. It was during this time that he met James Ferguson, who also became a resident at AFRH-W. Holsey was in Guam during the Invasion of Saipan.  Next, he was sent to the Invasion at Okinawa and, in a pouring rain he descended from the ship on ropes into very rough water to board a small boat to get to the beach. He stayed here until the end of the war and was sent back to Montfort Point. Hoping to be home for Christmas, Holsey missed out by a few days and was finally discharged at the age of 21.
 After attending Morehouse College for a few semesters, Holsey decided to get back to what he enjoyed, working with his hands. He moved to Philadelphia, PA and worked in a tailor shop, a service station and ended up as a Firestone Tire Manager in Hyattsville, MD. In June 2012, Holsey was one of about 400 African American Marines throughout the country that received the Congressional Gold Medal from Congress in Washington, DC for their service during World War II.
Holsey was married and has a son who teaches music in DC. He also has 2 granddaughters, both in college. It was his primary care doctor who suggested he should come to AFRH-W and after meeting James Ferguson and his daughter at the VA, he decided to check us out and he is happy that he did. One of the things Holsey always liked doing was sewing, so he enjoys volunteering in the Sewing Room here.