Gigi Malone
By Ruby O. Woods-Robinson, M.S.L.S.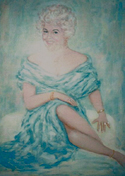 Dorothy was born in Milton, Massachusetts. She was blessed with beauty and was the apple of her parents' eyes. She often played the role of being a coiffurist on her dolls. Little did she know what was waiting for her in the future.
During World War II, Dorothy saw a beautiful advertisement in the newspaper of ladies sitting on airplanes; they were members of the new Women Army Air Corp. One day dressed in her finest red, fur trimmed suit, hat to match, and high, high heels, she went to the Army Air Corp to enlist. Little did she know that the picture taken of her standing next to the wing of an airplane would be used to recruit others into the Air Corp.
When Dorothy enlisted, she thought that she would be a high class Air Corp model. What happened is she became "PFC George," and she had to leave her high, high heels at the door step, the same for her beautiful clothing; she had to look like all of the other Women Army Corp (WAC).
Dorothy's responsibilities included being a recruiter, Supervisor of the Beauty Salon, and clearing incoming aircraft. While meeting one of the planes, there was a General abroad, he claimed he was the pilot. Dorothy asked him for his Clearance papers, he signed them. She asked him if she could call transportation for him, and he replied that he preferred to walk. The General even stated that he was the pilot on that plane. He was a pilot, but he was not flying that plane, a young pilot was. And forty years later Dorothy married the pilot.
Unfortunately, like all other females PFC. George, had to leave the Army Air Corp when the War was over. Dottie, better known at AFRH as "GIGI" went back to her previous profession of being a Beauty Culture Instructor in Boston, Massachusetts.
Dorothy had decided to further her career she should become a Medical Secretary and enrolled in Fisher College. After a while she discovered that shorthand and she didn't get along!! So she decided to take a course on a stenotype machine. She worked as a secretary in Washington, D. C. for the Tariff Commission and even received a promotion. Eventually, Dorothy became temporary Secretary to the Chief of the Commission. The Chief's Secretary was in Geneva taking notes at a meeting and she was expected to retire upon returning. As luck had it, Dorothy became the Chief's new Secretary on a permanent basis. Dorothy and her second husband moved to Seattle, Washington where she worked for the U. S. Government.
Finally, Dorothy decided to return to the East coast to New Hampshire and become an entrepreneur. She went back to school to update her skills with the latest in hair styling. If you had seen her work, you would have thought no other than Vidal Sassoon had been the Coiffurist. Some say Dorothy was even more talented than Vidal. Dorothy was the entrepreneur of several business establishments, the "Grey Rose Beauty Salon" in Salem, New Hampshire, and "GG Coiffeur" in Dania, Florida, were two of her favorites.
While in Florida, she went to the "Senior Partners" dance, for senior widowed people – Dorothy was not a widow, but she dared her friend to tell anyone. Believe it or not a handsome gentleman asked her to dance. While dancing, they discovered he was the pilot of the plane that the General was on forty years before, when Dorothy was a PFC. Needless to say, after six months, "Ray Malone" became Dorothy's new husband.
Ray lived in Key West and "GiGi" moved to the Keys. Ray had a beautiful home built for her on the Canal. After the beautiful home was built, Dorothy decided they should move to a yacht; in retrospect, Dorothy says she should not have spent her entire inheritance on that forty-three foot Yacht.
After Ray's accidental death, Dorothy moved to Homestead, Florida, but after Hurricane Andrew decided she had enough of being adventuresome and it was time to move to the "Navy Home" in Gulfport, Mississippi. Would you know it, Hurricane Katrina destroyed the home and GiGi had to move Washington.
GiGi enjoys living at the AFRH-G because it is such a beautiful facility. She loves the wonderful, interesting residents as well as the staff. Beautiful living, even nicer than the Beaux Rivage Hotel in Biloxi, she says. Dorothy says living here you can have it all. She is still adventuresome and there is no telling what she will do next.