Elizabeth Lloyd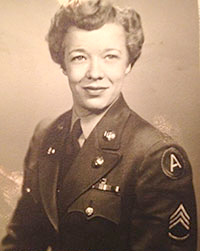 Elizabeth Lloyd was born in Johnstown and raised in Pittsburgh, PA. Two of her brothers joined the military in World War II and she wanted to enlist even though she wasn't old enough. But first, Elizabeth married her fiancé in 1942 at the age of 18, before he went to serve in the Far East. After their honeymoon spent at his Grandmother's house, Elizabeth went to join the WAC in September 1944. (It wouldn't be until 3 years and 3 months later that she saw her husband again). You had to be at least 5 feet tall and weigh 100 pounds or more; neither of which Elizabeth could do! She had even tried a weight gain plan that the recruiter told her about of eating lots of bananas. In the end, she was still four pounds underweight. But when she went into the recruiting office and stood on the scales, the recruiter said with a twinkle in his eye "5 feet; 100 pounds".
After Basic Training at Ft. Oglethorpe, GA, Elizabeth was chosen to go to Leadership Cadre School, and at the tender age of 20 was a Basic Platoon Sergeant teaching women up to 50 years old or older how to do things correctly, including cleaning grout on a wood floor with a toothbrush! She also worked in Finance and did payroll and as Elizabeth says "No computers, just and adding machine, fingers and a brain!" Elizabeth was discharged in December 1945 and reenlisted in 1946. She was assigned to the Army Air Corps and sent to Wiesbaden, Germany. In 1948, Elizabeth help train the 1st Regular Army company of women. It was also here that she got her nickname 'Little Bit' through a chance encounter at the PX when someone said "Oh, you are just a little bit of a thing". Later, Elizabeth became the only woman on an IG inspection team. She inspected NCO Clubs, Officers' Clubs and Personnel Records. Next Elizabeth went to Carlisle Barracks, PA to attend the Troop Information & Education Program. She setup the program to teach Basic Trainees customs and courtesies of foreign countries. To hold the students attention, she would start the classes by reading the Dick Tracy comics! After almost twenty six years in service and the beginning of the All Volunteer Army, Elizabeth retired from the Army at Ft. Belvoir, VA.
Elizabeth decided to come to AFRH-W in September 2013, after living with her sister-in-law for several years. She wanted to keep her independence and wanted to be with military people. Definitely doable here!