The AFRH has a Master Plan for solvency.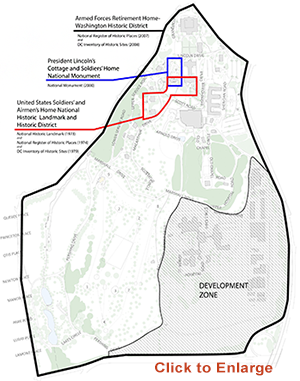 ---
Sustaining the AFRH for tomorrow
The AFRH is moving forward with the AFRH-W Master Plan to lease 80 acres of underutilized land. Doing so will give the AFRH vital revenue to sustain our Trust Fund and support our Residents well into the future. The Plan was originally approved in 2008, yet it had been on hold until the local real estate market recovered.
Management is working with General Services Administration (GSA) and United States Army Corps of Engineers (USACE) to maximize the benefits of developing our property. The Request for Proposal was released in December 2014 and we are now reviewing options.
AFRH Development plan updates
The Armed Forces Retirement Home is currently finalizing the RFP and plans to release it by early February. The RFP will be posted on this website and on FedBizOps (www.fbo.gov).
To be notified of the RFP release and receive project updates, please register under the "Stay Connected" tab.
AFRH is planning to hold a second Industry Forum to discuss the RFP and answer any questions after the RFP has been released.
July 2008: 
National Capital Planning Commission (NCPC) reviewed the final Master Plan and transportation management plan for the AFRH approving Zone A and returning Zones B and C to the AFRH Zone.